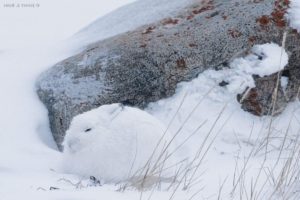 The Arctic hare is a small-sized rodent living in the northern regions beyond the Arctic Circle, mainly in North America, Europe, Greenland and the North Pole. External appearance and structure of the body arctic hares cram ordinary hares, which are their closest relatives. These animals have perfectly adapted to survival in arctic conditions and for many millennia have evolved to allow their body to maximize heat at constant low temperatures.
The arctic hares have thick, fluffy white fur, which allows them to successfully survive in the uneasy climate of the Arctic regions, in warmth and security. They have long, sensitive ears, strong muscular limbs, especially the hindquarters, and a short, fluffy tail.
These animals are forced to adapt to the harsh conditions of life and therefore eat literally everything that has at least some nutritional value. The Arctic hare eats shoots, buds and berries, found among the snow.
The Arctic hare is a vital component in the Arctic food chain, being one of the few small mammals able to successfully live and breed in a frosty environment. The Arctic hare often becomes a prey for large predatory animals of the arctic tundra, for example, arctic wolves, foxes and bears.
The Arctic hare, unlike the usual hare, does not change the color of its fur, depending on the season. The color of his coat is always white, because in the far north the snow lies all year round. Against the background of snow-white expanses of the tundra, white rabbits are practically invisible. In some parts of the region beyond the Arctic Circle, where the seasons change and there is a short polar summer, the Arctic hare changes its color from white in winter to gray-blue in summer, but its tail remains white all year round. The Arctic hare is a social animal.