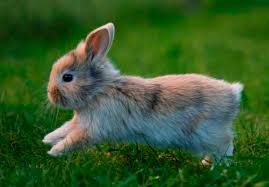 Yes, rabbits are herbivores. Feed the rabbits with hay, fresh grass (not any!), Some good dry food, a limited amount of fresh vegetables, solid food for grinding teeth. Decorative rabbits are contraindicated: sweet, high-calorie foods (nuts), products with starch content, harmful to them herbs, stale vegetables.
We need to monitor the nutrition of the domestic rabbit so that he lives a long and healthy life. How to feed a decorative rabbit? Decorative rabbits are herbivores, they feed on food of plant origin. Rabbit, like all herbivores, eats a lot and constantly, as they say, his mouth "does not close."
What rabbits eat at home all the time, so this hay, which is the basis of the diet of dwarf ornamental rabbits household. Both adult rabbits and small rabbits need to give unlimited amounts of hay all year round.
Hay and water in a rabbit should always be! Hay contributes to the proper digestion of the domestic rabbit, cleanses its intestines. Fresh hay has a greenish color, it is fragrant, fragrant. Smell the hay before giving it to the rabbit, if you feel a smell or ammonia, do not give this hay to a rabbit.