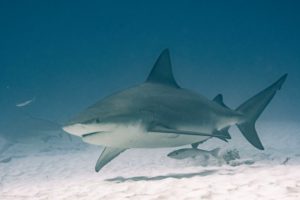 A bull shark is an extremely strong and fast animal. To escape from a striker to a swimmer of a terrible monster is almost impossible – she continues to torment her victim, not paying attention to blows and pain caused. In the heat of rage, these predators can pounce even on the propeller of the boat engine!
The behavior of bull, like many other sharks, is usually impossible to predict. They can indifferently swim for a long time beside, and then suddenly and fiercely attack the swimmer. This attack can be both a simple research bite, and a clear attack. Very zealously these predators protect the boundaries of their possessions – the invader invading their site, for sure, will be attacked.
There is no way to completely exclude the possibility of attacking a shark while a person is in the water, but you can take some precautions to reduce the risk. Beware of turbid waters near the confluence of the river into the ocean: in conditions of poor visibility, a bullish shark is inclined to attack any large objects, especially without understanding it.
It is not recommended to enter the water after heavy downpours: the water streams can wash the organic in the sea, which will attract the attention of sharks. There are cases of brutal attack by sharks-bulls on wading people. The victim is sometimes deceived by the apparent slowness and sluggishness of the 4-meter monster, but sharks-bulls are able to lightly attack a hapless bather or a pet, approaching the water. Persistent and hardy predator develops high speed in pursuit of potential prey.
So, the gray bull shark, with its repulsive reputation of aggressor and cannibal, can be found in the waters of all the oceans (except, perhaps, the Arctic) and many fresh water bodies. Consider closer to these phenomenal predators.
Anterior dorsal fin large, posterior considerably smaller. Caudal fin with an elongated superior lobe, with a notch on its tip. The last gill slit is located above the beginning of the base of the pectoral fin. Teeth have the form of triangular plates with a serrate edge. The teeth of the lower jaw are narrower than the upper jaw.