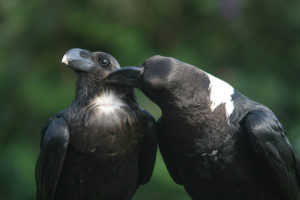 There are no fundamental differences between raven and crow. Both species of birds belong to the same genus Crows of the Corvidae family. Perhaps the principle by which a species of animals was called a raven or a crow depends on the whim of a particular ornithologist, compiler of the directory or translator.
The length of the raven's body can reach 60 cm, while the black crow is smaller in size – the length of the adult body is up to 50 cm. The raven is noticeably larger than the crow.
Adult males of common raven can weigh 1-1.5 kg, and black crow only up to 700 g.
The raven of an ordinary beak is much thicker than a black crow. Although from afar it is not always noticeable.
A distinctive feature of the old raven ordinary animals are elongated feathers of goiter. They are characteristically flabby, recalling the "beard".
This difference can be seen only during the flight of the bird. The raven has a rounded tail, and a crow has an ordinary wedge-shaped ending.