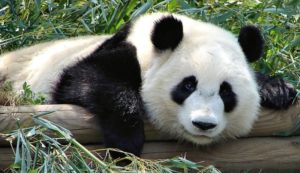 Panda lovers often ask if pandas eat meat? The question is quite relevant, since the big panda is very much like the bear, which it is (another name for the big panda is a bamboo bear). Yes, and a small (red, red) panda is also not very similar to a herbivore, and looks like a hybrid of a raccoon, marten and a bear.
In addition, a large panda is included in the bear family, which, as you know, are representatives of the predatory squad. Yes, and the small panda, although it represents a family of pandas, which is not represented by any other animals other than it, is very close to raccoons and represents the same detachment as bears.
It would seem that the question "do pandas eat meat?" Should be closed at the very beginning. But why, then, both these animals are depicted eating bamboo, and the big panda is called a bamboo bear?
Both pandas are unique in that, from a biological point of view predatory animals, and in fact – omnivores, they eat almost exclusively bamboo. However, their distant ancestors, representing the same families, but related to other, although related species, were predators, both in their structure and in their habits, with the exception of bears that are omnivores.