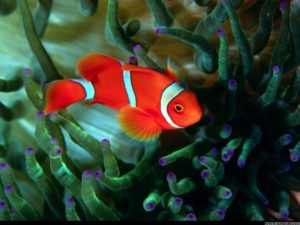 There are about 30 species of amphipriones in the world. This is a fairly small fish, reaching a length of not more than 20 centimeters. In a natural environment, a clown fish lives about 10 years, and in aquariums it is twice as long. This bright fish lives in the warm, shallow waters of the Indian and Pacific oceans from the eastern coast of Africa to Hawaii.
Clownfish is most popular in aquariums among marine fish species. Three white stripes with a black border contrast with the bright orange color of her body. It is because of its color, the famous American cartoon and endurance, that the clowns have gained their popularity. This representative of the family pomatsentrovyh will be an excellent addition for almost any marine aquarium.
This bright fish does not need a presentation – even those who have never been fond of diving and have not visited aquariums will recognize it.
For clownfish is characterized by a symbiosis with different types of actinium. At first the fish touches the actinia lightly, allowing it to sting itself and figuring out the exact composition of the mucus that covers the actinia – this slime needs an actinia so that it does not sting itself. Then the clown fish reproduces this composition and after that can hide from the enemies among the tentacles of the sea anemone.
Absolutely all clown fishes are born by males, if necessary, each of them is able to change its gender. This happens not always, but only when the female dies: because the females are much smaller than males, this is the only way to reproduce the offspring.
Relations in the pack are built on a hierarchical principle – a couple of the largest individuals are at the head, while the rest restrain their growth in order not to fall prey to the dominant male. But as soon as he dies or transforms into a female, all the fish of the pack in order to take its place, immediately begin to grow. And this growth stops only when the "applicant" is found.