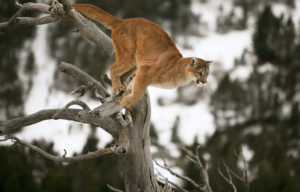 Probably more than one animal does not have as many names on the planet as a cougar. As it is not only called: a mountain lion, a cougar, a panther. Cougar was even brought to the Guinness Book of Records as an animal with a large number of names. But apart from the number of names, Cougar is also famous for its other qualities.
Cougar is the second largest representative of the cat family in America. It's bigger than the jaguar.
On the plain, the cougar can reach speeds of up to 65 km / h, but she quickly gets tired and, in case of chasing her, tries to climb quickly onto the tree.
All cougars lead a solitary lifestyle, with the exception of females with calves or during the mating season.
Babies cougars are born spotty.
The milk of a cougar is 6 times as fat as a cow.
The puma has special bumps on the tongue, with which they tear off small pieces of meat from the extraction.
The young puma never leave the shelter until their mother calls.
Catching a large prey, the puma always hides her remains until the next meal.
Cougars are the only large monophonic cats on the American continent.
To survive, in a year one puma it is necessary to eat 860-1300 kg of meat, it approximately about 45-50 ungulates.
With her progeny, the female communicates with sounds similar to bird-like tweets.
Cougars were sacred animals from the Cherokee and Zuni Indians, as well as from other local tribes.
In order to restore the population of cougars in Canada and the USA, hunting for pumas is limited or completely banned.
Cougars living in the southern regions of America often attack alligators and sometimes kill individuals twice as large as them.
Wolves, bears and jaguars are the most dangerous enemies of cougars.
The chasing of the cougar for the prey in 82% ends with a positive result.
In the wild, pumas can live 18-20 years.
Pumas rarely attack people. Most often, attacks occur where the puma habitat intersects with human habitation.
If you cross a leopard and a puma, then as a result of the light will appear hybrids called Pumapards.