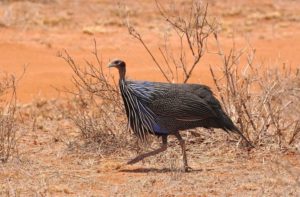 There is an unusual chicken guinea fowl on the ground, which lives in the wild, and decorates many village farmsteads. In many zoos you can meet guinea fowl.  The guinea fowl has only seven species of birds. Despite a few species, guinea fowls are very interesting animals worth seeing. The guinea fowl looks like a chicken. This is not surprising – these birds fall into each other "distant relatives". The body and legs of the guinea fowl are of medium size, but the neck is long and bare. On the top of this bird there are small dermal outgrowths, hidden by feathers.
Guinea fowls are very beautiful birds: their mottled color obscures even shortcomings in the form of a bare neck and the absence of a beautiful tail. Different kinds of guinea fowls are beautiful in their own way: for example, in ordinary guinea fowl the body is covered with feathers with a pattern reminiscent of pearl-colored circles, a crocheted guinea fox is decorated with a tuft of curly feathers, but the griffin guinea fowl is an even more elegant bird with short feathers on the neck and long multicolored feathers on the chest.
All kinds of guinea fowls are inhabitants of sultry Africa and the hot island of Madagascar. Guinea fowls, especially young ones, are poorly tolerated by cold and dampness. Most often these birds can be found in dry forest-steppes and steppes, as well as in some low-growing forests of Africa.
Of course, the area of ​​settlement of this bird on the mainland is directly dependent on its species. So, for example, guinea fowl is mainly found in Kenya, Ethiopia, on the Somali peninsula, and a chubby guinea fowl is found mainly in the southern part of the Sahara.
Food guinea fowls are very diverse. This bird can eat both different insects and plant foods – seeds and grains of African plants, as well as herbs growing in steppes and forest-steppes. In addition, guinea fowl eat with pleasure and fruits, buds, leaves of plants.