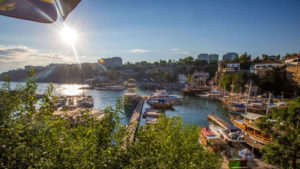 Antalya, or Antalya, as still sometimes called this city – one of the most popular Turkish resorts, which is famous for its clean beaches and beautiful nature. But the dignity of this city does not limit this alone – this place is literally imbued with ancient history through and through, and you will not have to be bored, even if you are not a lover of a lazy beach holiday.
The exact age of Antalya is unknown, but it can be argued that this city is more than two thousand years old – the first chronicle mention of it dates back to 159 BC.
For Turkey, Antalya is not only an important and profitable resort, but also almost the main port.
At different times, Antalya repeatedly passed from hand to hand, so here you can see monuments of architecture, not only of different eras, but also of different cultures.
Before the fall of Byzantium, Antalya was considered a Christian city, although Islam began to spread in these parts about a thousand years ago.
Many argue that the oranges grown in the province of Antalya are the most delicious.
After the end of the First World War, Antalya for two years was under the control of the Italian troops that occupied the city.
The permanent population in Antalya has about a million inhabitants, but in high season there are twice as many people thanks to the arriving tourists.
Antalya is quite clearly divided into Old and New city. There are interesting places both there and there.
In Antalya there are two international airports of a high class, as one airport simply could not cope with the sharply increasing summer flow of tourists.
At various times this city managed to be under the power of the Greeks, Romans and Byzantines.
One of the most popular places among the guests of Antalya is an incredible oceanarium. Every taxi driver knows him here.