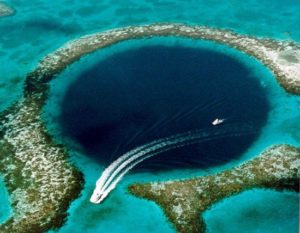 Atolls are the most numerous species of islands. They were formed millions of years, and now, in our days, many of them are suitable for life. Some states of Oceania are entirely located on atolls.
Atoll is an island of coral origin, which has the form of a ring or semirings.
Some island states, for example, Kiribati and Tuvalu, are completely based on atolls.
Swimsuit "bikini" got its name due to the sensational test of the atomic bomb on the atoll of Bikini.
One of the most famous atolls in the world is the Lighthouse Reef, an atoll of the right ring-shaped form, in the center of which is the famous Great Blue Hole lagoon.
The most intact atoll in the world is Caroline, a part of the Republic of Kiribati. Unfortunately, the atoll is threatened with flooding in the next few decades due to the slow rise in the level of the world's oceans.
The largest in the world raised atoll – Niue, which is the same state.
The world's largest atoll is Kyritimati.
Atoll Aldabra, the second largest in the world, is inhabited by more than one hundred and fifty thousand giant turtles.