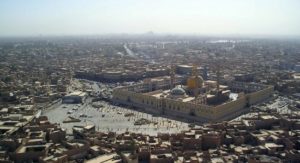 Baghdad is an ancient city, thoroughly permeated with the history and culture of the Arab world. To many it is a place from oriental tales, and, even if reality differs from this view, Baghdad remains an extremely interesting place.
For the first time pharmacies, whose activities were controlled by the state, appeared in the 8th century in Baghdad.
The road from Baghdad airport to the city, passing through the Sunni triangle, received the name of the "RPG alley" among American soldiers, for the reason that there were constant shelling from grenade launchers.
In 2011, Forbes compiled a rating of the most remarkable zoos in the world, which included the Bagdad Zoo.
At the end of the 1st millennium AD, Baghdad was the largest city on the planet.
The tallest building not only in Baghdad, but also in all of Iraq is the Baghdad Tower (formerly known as the "International Tower of Saddam").
With a population of more than 9 million people, Baghdad is one of the most densely populated Middle Eastern cities.
Baghdad is more than three hundred years older than Moscow.
Sometimes it's snowing in Baghdad in winter. True, it is extremely rare – the last time the Baghdad people could see falling snowflakes in 2008.
Baghdad is the world's first city with a million population, and it received this status, according to historians, more than a thousand years ago.