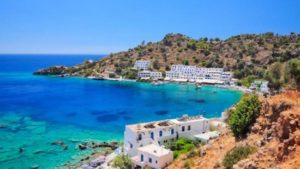 The island of Crete, owned by Greece – is a wonderful place to spend there well-deserved vacation. True, it is sometimes confused with Cyprus, which seems to be located nearby, and is also "Greek", only Cyprus is part of Greece, and Cyprus is an independent state. Well, if you ever visit the island of Crete, then you probably will be happy to remember about it a couple of interesting facts that we have gathered specially for you.
Among all the Greek islands of Crete – the largest.
As on another Greek island, Rhodes, there are about three hundred sunny days a year in Crete.
In the ancient Greek palaces, once located in Crete and built about seven thousand years ago, it was fully operational central heating, much like in modern homes.
Many where on Crete you can see growing bananas, but very few people know that it was the first time they were grown on this island only at the beginning of the last century.
The famous and extremely popular soft feta cheese originates here.
Bank branches in Crete finish their work by lunch time, usually by 14 o'clock in the afternoon.
Crime on the island is practically nonexistent.
In Crete, there is almost never a thunder-storm.
There were cases when tourists in Crete were frightened by snakes, but they should not be afraid – there are no poisonous reptiles on this island.
One of the typical Cretan dishes is stewed snails. The local dishes are very popular.
God Zeus, according to legends and myths, was born here.
The inhabitants of Crete successfully developed winemaking when Europeans still walked with stone axes.
For some reason, Vespa scooters of Italian manufacture are very popular on the island.