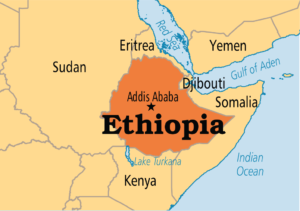 Located in East Africa Ethiopia, more precisely, the Federative Democratic Republic of Ethiopia is a country with a rich history and original culture. Along with Kenya, it is often called the ancestral home of all mankind, and reasonably – there is evidence that the ancestors of people appeared right here.
The territory of Ethiopia is roughly equal to the territories of France and Spain, combined together.
The national language of Ethiopia is Amharic. It is distributed only here and partly in neighboring states.
Ethiopia is the second most populous country in Africa, after Nigeria.
Ethiopia is one of the most ancient countries on Earth.
Another name for Ethiopia, formerly often used in Europe and sometimes in Russia – Abyssinia.
Christianity in Ethiopia began to spread in the 4th century, which makes Ethiopia one of the most ancient Christian countries.
In the 19th century, Ethiopia fought against Italy, successfully repulsing the invasion of its territory, and Russia in this war provided Ethiopia with free supplies and other supplies.
The highest point of Ethiopia is Mount Ras Dashen, which is 4620 meters above sea level.
The temperature during the year in Ethiopia practically does not change.
In cities, less than a fifth of all Ethiopians live.
The population of Ethiopia consists of more than a hundred different nationalities.
A third of Ethiopians are Muslims.
The lowest point of Africa is the Danakil valley, located 116 meters below sea level. She is on Ethiopian soil.
About seventy percent of all African mountains are located in Ethiopia.
The name of Addis Ababa, the capital of the country, is translated from Amharic as a "new flower".
Ethiopia is the only African country that has never been colonized by anyone.
The national currency is the Ethiopian birr (see curious facts about money).
In Ethiopia in the course of more than two hundred languages.
The Ethiopian written alphabet is unique.
In Ethiopia in the year thirteen months, not twelve.
Coffee first appeared in Ethiopia.