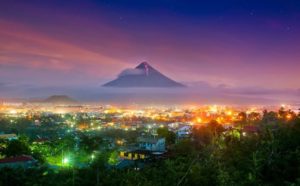 The city of Legazpi in the Philippines is an important economic center for this country. In addition, Legazpi is also an important transport hub, through which a monstrously huge amount of cargo passes every year. Manila, the country's capital, however, remains the busiest port in the country, but also Legazpi plays an extremely important role.
The area of ​​Legazpi is almost four times higher than the Manila area of ​​the capital of the Philippines. However, the people in Legazpi live about eight times less.
In Legazpi there is the most southern station of the Philippine railways. To the south of this city there are no trains.
Legazpi is not included even in the twenty most populated cities in the Philippines, with the role of this city in the Philippine economy is extremely high.
The city received its name in honor of the Spanish conquistador Miguel de Legazpi.
Conditioners in Legazpi more than people – it's always hot and humid.
On the territory of Legazpi there are three universities, including the famous Bicol, considered the best Philippine university.
Only 15 kilometers from the city there is an active volcano. It attracts a lot of tourists, in addition, the closer to the volcano – the more expensive the land, because there is fertile land and very beautiful nature. However, it erupts since 2009. In total, since the founding of Legazpi, the volcano erupted more than forty times.
Once on the site of modern Legazpi there was a Filipino settlement called Savangan. Its modern name was given to the city after the Spaniards captured it and rebuilt it. The old district, where once Savangan was located, can be seen in the port area, but since that time, practically nothing has been preserved there.
Shortly after the outbreak of World War II, Legazpi was occupied by the Japanese Imperial Army, but by joint efforts Filipinos and Americans liberated the city.
On the Legazpi, a lot of typhoons fall annually, some of which have a maximum level of danger.