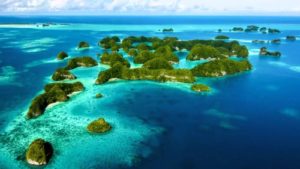 Micronesia is not only a region, it is also a state. However, its full name sounds like the Federated States of Micronesia. Due to the considerable geographical distance, this country is not popular with tourists, and in general remains little-known. We have collected for you a selection of facts about Micronesia.
The Federated States of Micronesia includes 607 volcanic islands and atolls, and only 40 of them have any significant size. The permanent population has 65 of them.
The total land area of ​​Micronesia is only 702 square kilometers.
Micronesia is in free association with the United States and in fact depends on American subsidies.
Its currency is not in Micronesia – here in the course of the US dollar. However, once Micronesians used as money huge round stones with a hole in the middle. The more the stone, the more expensive. Since some of these "coins" reach a few meters in diameter and weigh two to three tons, they were not moved when bought, but simply wrote the name of the new owner on them. Now these stones are a legacy of Micronesian culture.
There are five languages ​​in Micronesia, although only English is official.
On the flag of Micronesia, there are four stars. They represent four Micronesian states.
At night, Micronesians prefer to sleep. After 22 hours you will hardly be able to find here at least one working restaurant or shop.
One of the largest Micronesian islands, Kosrae, is perhaps the safest place on earth. There is no crime here, like dangerous animals.
In Micronesia, there is an unusual tradition – to change the name every New Year to confuse evil spirits.
Once the national team of Micronesia lost to the national team of Fiji with a score of 38: 0.