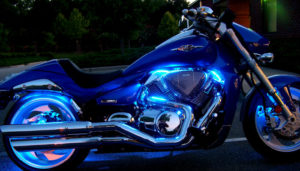 A motorcycle is not just a vehicle on two wheels. There are a lot of people in the world for whom it is, if not the meaning of life, then at least its most important part … Well, or one of the most important.
At one time the USSR was the second in the world in terms of the number of motorcycles produced annually.
The first motorcycle was invented more than 130 years ago by the German engineer Gottlieb Daimler. He had a wooden frame and a gasoline engine.
Birthday Motorcycle – August 29, 1885.
Actor Brad Pitt – a famous fan of motorcycles, in his collection there is even a Russian "Ural" with a stroller.
In some European countries, specially equipped motorcycles are used as tow trucks for cars.
The most popular motorcycle brand in the world is Harley-Davidson.
The first serial motorcycle, conquering the speed limit of 160 km / h, was released in 1924 Brough Superior SS100.
For the first time, the plug of the telescopic type, now adorned on the vast majority of motorcycles, was installed on the BMW R12 motorcycle in the distant year 1932.
A familiar gear shift system was invented by Velocette Motorcycles in 1927.
Honda GL 1800 Gold Wing – the first serial motorcycle, received a safety cushion.
The most powerful motorcycle, of the existing number of more than one instance – Dodge Tomahawk. On the assurances of the creators, he is able to develop a speed of 676 kilometers per hour. In total, ten such motorcycles were produced.
For none of the companies of the "big Japanese four" – Yamaha, Suzuki, Honda, Kawasaki – motorcycles are not the main activity.
All four of the above-named companies received their names from the names of their founders. They were Torakusu Yamaha, Soichiro Honda, Michio Suzuki and Shodzo Kawasaki.
The first Harley-Davidson had a capacity of 2 hp. and made from a tin can carburetor.
The world record for long jump was established in 2010 on a motorcycle Harley-Davidson XR1200.
The most popular motorcycle motorcycle in Russia is Honda CB 400 SF, despite the fact that it is sold only in the domestic market of Japan.
The Great Depression in the US experienced only two motor-car manufacturers – Harley-Davidson and Indian. Others, for example, Excelsior-Henderson, went bankrupt.
The company Harley-Davidson for six years trying to patent the sound of their engines. Unsuccessfully.
For the first time a somersault on a motorcycle was made in 2000.