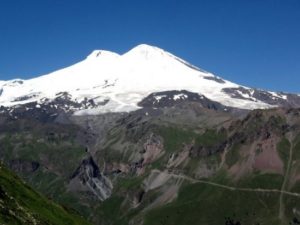 Mount Elbrus is a real challenge to mountaineers around the world who are eager to conquer its peaks. Elbrus is often called the pearl of the Caucasus – proudly towering over all the other surrounding mountains, it is the very fact of its existence that defies brave men who will risk climbing up to the top. Climbing Elbrus is not an easy task, and it can only be tackled by truly experienced climbers.
Elbrus has not one peak, but two, and the difference in their height does not exceed twenty one meters.
Elbrus is the highest mountain in Russia.
For the first time Elbrus was subjugated by a man in the distant year 1829.
Mount Elbrus has more than ten different names.
Climbing Elbrus has become much easier since the cableway was built, capable of delivering climbers immediately to a height of 3750 meters.
Often Elbrus is confused with Elburs – a mountain ridge in Iran, on the coast of the Caspian Sea.
On Mount Elbrus, at a 4.1-kilometer height, is the famous "Shelter of Eleven" – the highest mountain hotel in the world, laid back in 1909.
Twenty-three glaciers flow from Elbrus.
Mount Elbrus is a volcano. For a long time it was considered forever extinct, but in recent years, eruptions of gases from it have intensified, which caused scientists to reconsider their opinion of it.
In some places, the thickness of the ice shell, covering Elbrus, reaches four hundred meters.
The last time Elbrus erupted about two thousand years ago.
The cable car on Mount Elbrus is the second highest in Europe. In an hour, it is capable of transporting up to 750 people.
Thanks to the fact that the air at the height of the Elbrus summit is clean and transparent, you can see two seas – Black and Caspian at the same time.
Elbrus is officially recognized as one of the seven wonders of Russia.
In 1997, a Russian traveler Alexander Abramov climbed to the top of Elbrus on a specially converted for this purpose SUV Land Rover.