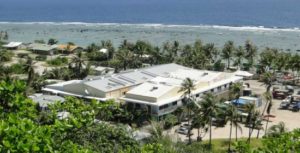 Nauru is a small island inhabited by Nauruans, its indigenous inhabitants. This tiny piece of land has a surprisingly eventful history …
Nauru is a small island nation, isolated from the rest of the world.
Residents of Nauru are considered the most fat in the world, according to statistics, about 95% of the population suffers from a certain degree of obesity.
Nauru does not have a capital.
The population of Nauru is a little over ten thousand people.
The unemployment rate in Nauru is one of the highest in the world, more than 80 percent.
The area of ​​land of Nauru is about 21 square kilometers.
Virtually everything that is on Nauru is imported here.
The island has problems with fresh water, and it is brought here by tankers from Australia.
Australia also temporarily places refugee camps in Nauru. This is a fee for Australian aid to the island.
There are only two hotels in Nauru.
On average, the island is visited by several hundred tourists a year.
Nauru does not have regular passenger traffic with other countries.
The Republic of Nauru is the smallest island nation in the world.
Also Nauru is the smallest country outside of Europe.
The official languages ​​in Nauru are two, English and Nauru.
Nine out of ten inhabitants of the island are ethnic Nauruans.
The writing of the Nauruan language is based on the Latin alphabet.
During the 1980s, as a result of active phosphate mining, about 90% of the forest in Nauru was cut down.
Approximately 80% of the territory of Nauru is a lifeless wasteland.
During the 80s of the last century, while the above mentioned phosphorites were actively mined, the Republic of Nauru was one of the richest countries in the world.
Over the next decade, Nauru set a record, in record time, moving from First World countries to Third World countries.
Nauru has two fishing vessels.
The total length of motor roads to Nauru is about 40 kilometers.
On Nauru there is an airport and its own airline, which has a couple of old "Boeing".
The railway to Nauru is also there, its length is 3.9 kilometers.
There is no public transport to Nauru.
There is one radio station on the island.
In 1998, Nauru had access to the Internet.
Nauru has a free education.
There are no higher educational institutions on the island, but there is a department of the South Pacific University, where the Nauruans can study in absentia.