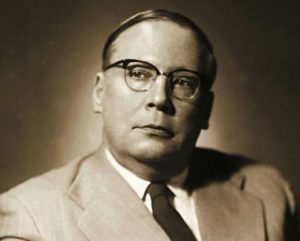 The Soviet poet Nikolai Zabolotsky became famous for his soulful, philosophical poems that are able to reach the heart of even the most brutal man. His works make us think about important things that we usually do not find time for. True, the life of the poet was not easy – the Soviet authorities did not appreciate some aspects of his work and subjected Zasbolotsky to harassment.
The father of the future poet Nikolai Zabolotsky was an agronomist, his mother a rural teacher.
As a third-grader, Nikolai Zabolotsky "published" his own magazine, in which he published his own poems.
Initially Zabolotsky studied philology and medicine at the University of Minsk, but soon moved to Leningrad, where he preferred Russian and literary creativity.
After serving in the army, Zabolotsky worked in the Real Art Association under the leadership of Samuel Marshak.
In 1938, Zabolotsky was sent to the camps for anti-Soviet propaganda, where he narrowly escaped the death penalty. Almost 30 years later, the poet was rehabilitated at the request of his widow.
In the camps Zabolotsky worked as a builder and draftsman.
Nikolai Zabolotsky was and remains the largest translator of poetry from the Georgian language. For the development of art and culture of Georgia, the writer was awarded the Order.
Zabolotsky adapted for children the Russian translation of the works of François Rabelais and became the author of the transcription of "The Lay of Igor's Campaign".
In the summer of 2015, the first monument on the Russian territory, Zabolotsky, appeared in the Kaluga Region. The sculpture was installed in Tarusa, where the poet was in the last years of his life.
Zabolotsky was inspired by the works of the great scientists Konstantin Tsiolkovsky, Kliment Timiryazev and Albert Einstein.
Friends of Nikolai Zabolotsky were sure that he died because of his wife – Ekaterina Klykova, who gave birth to a poet of two children, shortly before her husband's death, left him for another man. The novel was short, and then she returned to the family, but these shocks knocked down Zabolotsky's already poor health.
 The poet did not survive the second heart attack – after the first attack the poet was prescribed a bed rest, and he went to the bath to brush his teeth and fell dead. Now Zabolotsky rests on the Novodevichy cemetery.
Nikolai Zabolotsky from childhood was fond of painting. His favorite artists were Marc Chagall, Peter Brueghel and Pavel Filonov.
In the film "We'll Live To Monday", the song "Oriole" is written, written on Zabolotsky's poems. Another work of the poet, the poem "Confession", formed the basis of the song "Charmed, bewitched" by Alexander Lobanovsky's bard.
The husband of Nikolai Zabolotsky's daughter was the academician of the Russian Academy of Medical Sciences, virologist Nikolai Kaverin.
A few days before his death, Zapolotsky compiled a list of his own poems, which he considered worthy of publication. He forbade all other works to be made public.