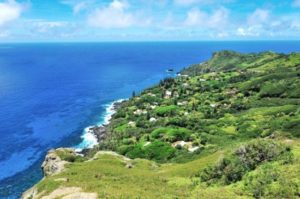 Pitcairn – a tiny island, lost in the vast expanses of the Pacific Ocean. The first inhabitants appeared on it by chance, and since then the uninhabited island has acquired its history.
The Pitcairn Islands are the only overseas possession of England in the Pacific region.
The archipelago includes five islands.
We inhabit only one island, in fact, Pitcairn, an area of ​​about
4.5 square kilometers.
The first inhabitants of Pitcairn were rebellious sailors from the Bounty ship and captured women from Tahiti. The history of the mutiny on the "Bounty" is widely covered in the literature.
The islands of Pitcairn – the most sparsely populated territory in the world, in 2014 there were only 56 people.
Pitcairn does not have regular transport connections with other countries.
The only settlement on the islands is the Adamstown settlement.
On the islands of Pitcairn, there is a New Zealand dollar.
The total area of ​​the islands is forty-six and a half square kilometers.
The source of fresh water is only on the island of Pitcairn, where Adamstown is located.
There is no mobile connection on the islands of Pitcairn.
Taxes on Pitcairn were introduced only in 1904.
The maximum number of inhabitants on the islands – 233 people – was recorded in 1937.
There are no airports on Pitcairn, nor are there any equipped sea ports.
Pitcairn's official language is English, but the locals speak the Pitcairn language, which was formed on an island of two others – the English pattern of the 18th century, and the Tahitian language.
The islands of Pitcairn have their own Internet domain – .pn.
Public works on the island are mandatory for all residents aged 16 to 65 years.
On the islands of Pitcairn there is no cafe, no restaurants.
But then periodically produced their own coins, which in the eyes of collectors of high value.
The island has a satellite phone and radio.
Internet connection speed of 128 kbit / s on Pitcairn is also there.
Annually Pitcairn visits about ten cruise ships, stopping, however, only for a few hours.
Education in Pitcairn is free and compulsory.