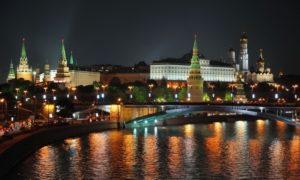 Russia … A huge, vast, beautiful country. So huge that many people who live on its territory do not know a small part of all that is concealed in its boundless expanses.
Russia is the largest country in the world. However, this is no secret.
Russia is the only country in the world, washed by a dozen seas.
The deepest lake on earth, Baikal, is located in Russia.
The most ancient mountains in the world, the Ural – is also a Russian property.
There are more than eight hundred glaciers in the Altai.
The borders of Russia and the United States in the north share a distance of 4 kilometers.
The deepest subway in the world is in St. Petersburg, its depth is more than a hundred meters.
The largest active volcano in the world is the Klyuchevskaya Sopka, which is five kilometers in height. It erupts for more than seven thousand years.
In St. Petersburg three times as many bridges as in Venice.
The world's largest medieval fortress is the Moscow Kremlin.
St. Petersburg is the most northern metropolis in the world, out of more than one million people.
The area of ​​Siberia is about nine percent of the total land area of ​​the Earth.
Russia borders on 16 countries.
In Russia, women received the right to vote in elections earlier than in the United States.
In the Moscow metro, almost ten thousand trains.
The most extensive plain on the planet is the West Siberian.
In the Hermitage there are about three million works of art.
The most visited McDonald's in the world is located in Moscow on Pushkin Square.
Sushi in Russia is more popular than in Japan.
The world's highest university is located in Moscow, Moscow State University.
Before the revolution, firearms in Russia were sold freely.
Ostankino TV tower is the tallest building in Europe.
The coat of arms of Chelyabinsk depicts a camel.
About four percent of the territory of Russia is protected nature reserves.
The world's largest tram network is in St. Petersburg.
The Siberian taiga is the largest forest massif in the world.
Russia and Japan never signed a peace treaty after the end of World War II. Still.
In the area of ​​the city of Magnitogorsk there is Magnetic Mountain, almost entirely composed of iron.
The oldest city in Russia is Derbent, located in Dagestan.
Russia occupies the second place in the world (after the PRC) in terms of the number of military personnel.
Metal for the frame of the American Statue of Liberty would be smelted in Russia.
The longest continuous land border in the world is the border between Russia and Kazakhstan.
About 45 percent of the territory of Russia is located beyond the Arctic Circle.
The geographic center of Russia is Lake Vivi.
The most remote from Moscow is a town on earth – the city of Dunedin, New Zealand.
Large Vasyugansky swamp area of ​​about 56 thousand square meters. kilometers – the largest swamp in the world.