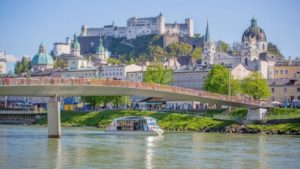 Salzburg is the most beautiful Austrian city, still retaining its old-fashioned charm. Of course, it's still Austria – one of the most highly developed countries in the world, but Salzburg has retained its true appearance even under the onslaught of the latest achievements of civilization that have overrun all modern megacities.
The historical center of Salzburg is listed as a UNESCO World Heritage Site.
This city is famous, first of all, for its annual music festival, when many thousands of tourists come here. Salzburg in general bears the unofficial title of "musical capital" of Austria.
About a third of all Salzburg residents work in the tourism industry.
For a long time the basis of the city budget was the extraction and sale of salt.
It is here that one of the most ancient breweries of the world, opened in 1492 and still working today – Stiegl-Brauwelt. However, in Ireland, too, there is a brewery, which is about five hundred years old.
In the 14th century, the monstrous plague that devastated Europe killed one third of the total population of Salzburg.
During the Reformation, Salzburg was one of the main strongholds of Catholicism in the German lands. Already in 1731 the Protestants were expelled from the city.
Salzburg – the birthplace of the famous composer Mozart.
One of the main attractions of Salzburg is the nunnberg convent, founded by Saint Rupert. Nonnberg is the oldest functioning women's monastery in Austria, Germany and Switzerland.
The inhabitants of Salzburg have an unusual historical nickname – "bull washers". Most likely, it is due to the fact that once local butchers washed fresh meat right in the waters of the fast river Salzach.