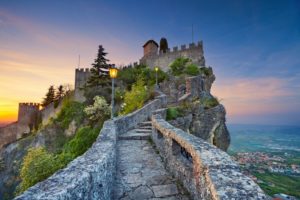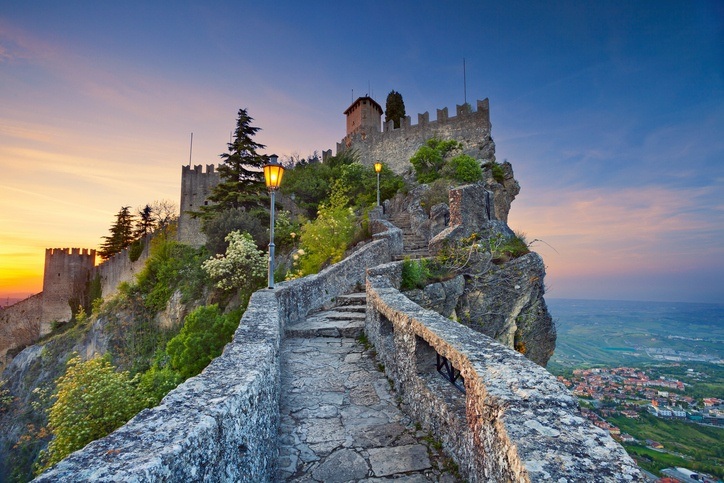 The Republic of San Marino is a very popular place for tourists. It is here that you can feel the atmosphere of the ancient European principality and at the same time enjoy unreal beauty with views and endlessly beautiful natural beauties.
The Republic of San Marino is surrounded on all sides by Italy.
The official language of San Marino is Italian.
This country is the oldest of European states, it has been carrying on its history since 301.
The area of ​​San Marino is a little over sixty square kilometers.
About 80 percent of the country's territory is covered with rocks.
In San Marino, about 220 kilometers of roads.
In winter, snow sometimes falls here.
The currency of San Marino is the euro.
In the country coins-euros are minted with their own symbols.
In San Marino, there is a university and an academy of sciences.
The highest point of the country is Monte Titano, 739 meters above sea level.
The population of San Marino is about 32 thousand people.
There are about thirty cities and villages in the country.
San Marino is very reluctant to extradite citizenship to foreigners. To get a passport of this country, you will have to live in its territory for at least thirty years.
San Marino has its own army, it has about a hundred people.
This country has its own calendar, where the starting point is the date of the founding of the Republic of San Marino, so this is the seventeenth century.
Every year, the country is visited by three million tourists.
When driving to San Marino, there is no need to pass customs.
The country has its own football team.
Issue and sale of postage stamps – a quarter of the income of the state treasury of San Marino.
The San Marino Constitution is the oldest in the world, it was adopted in 1600 and is still in use.
More than a third of the country's citizens live abroad.
From the Monte Titano mountain through binoculars you can see Croatia.
Through the bowels of this mountain passes a 32-kilometer tunnel connecting San Marino and the Adriatic Sea.