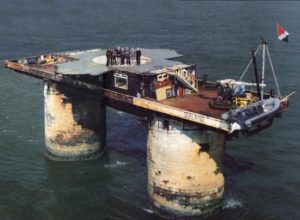 Sealand is an amusing case from the field of international law. Claiming for recognition as a sovereign state, it was once founded by a pair of enterprising adventurers.
Sealand is an unrecognized state, located on a sea platform ten kilometers from the British coast.
Sealand has its own constitution, flag and coat of arms.
The currency of Sealand is the Silent dollar.
The area of ​​Sealand is about 0.001 square kilometers.
The ruler of Sealand is the monarch Michael I.
During World War II, the anti-aircraft guns and the garrison of servicemen were located on the offshore platform, where now Sealand is located.
Sealand was proclaimed in 1967.
There are no passports in Sealand – they were canceled in 1997.
The owners of the country are ready to sell it for 750 million euros.
The official name of the unrecognized state is the Principality of Sealand.
No country has established diplomatic relations with Sealand.
The population of Sealand is 11 people.
Initially, the founder of Sealand planned to equip a pirate radio station on a sea platform.
In 2006, Sealand was seriously damaged by fire.