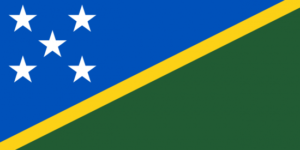 Solomon Islands is such a small state, lost in the ocean. Many inhabitants of our planet and the name of this country have never heard of in their lives, but this country is full of amazing discoveries! Perhaps only geographical distance and is the only reason why the Solomon Islands has not yet become a popular tourist destination.
In the Solomon Islands, there are only two seasons – dry and rainy, while the air temperature remains practically unchanged throughout the year.
The island of Arnavon, which is part of the archipelago, is a nesting place for sea turtles of the bissa – one of the rarest species on Earth. This island is sometimes even called the "Island of Turtles."
According to the latest scientific data, the first people appeared on Solomon Islands in 26000 BC. Impressive figure.
Before the appearance of Europeans, the inhabitants of the Solomon Islands were cannibals and bounty hunters. And afterwards – too, while the missionaries did not do their job.
Admire the world's largest salt water lagoon Marovo (sparkling blue water covers an area of ​​approximately 150 by 96 km) can be on the island of New Georgia. This miracle of nature is a candidate for getting on the UNESCO World Heritage List.
Another record holder of the Solomon Islands is East Rennell (86 by 15 km), the largest exalted coral atoll on Earth.
The island of Rennell also houses the largest freshwater lake in the South Pacific, called Tengano. The lake is so large that about 200 islands are located in its water area! The lake and the adjacent part of the island (a total of about 37 thousand hectares) were declared a National Wildlife Park, protected by UNESCO.
In many areas of the Solomon Islands, locals worship sharks.
The island of San Jorge, according to local beliefs, is the haven of the spirits of the dead.
Numerous caves of the island of San Cristobal, as the aborigines assure, are inhabited by mythical creatures of the "cacamora" – these stunted creatures with long claws and a multi-colored body, also called "dwarfs of the Pacific Ocean".
Some tribes of the Temotu area still use the feathers of red exotic birds as money, this is one of the most unusual monetary units on the planet.
Until the 20th century, the tribes of the Solomon Islands paid for goods and services with the help of canine teeth.
Residents of the island of Bougainville use the language of rotokas, whose alphabet consists of only 12 letters – this is the most modest in size alphabet in the world. In this language, nevertheless, about 4,3 thousand people speak. In total, Solomon Islands has about 120 local languages.
Part of the inhabitants of the Solomon Islands remains true to the traditions of their ancestors and walks in loincloths or short skirts.
Team Solomon Islands beach football – the best in Oceania, the team successfully performs in international competitions