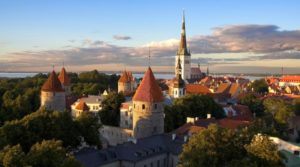 The Estonian capital Tallinn is a city that combines, it would seem, incongruous. The appearance of a medieval settlement here peacefully adjoins all conceivable achievements of modern science. Yes, this is a fact – local authorities actively integrate technological innovations that make life easier for people, while managing to preserve the original appearance of the ancient city.
The entire central area of ​​Tallinn (the so-called Old Town) actually represents one huge open-air museum. Here is concentrated an incredible number of ancient buildings, which are already far from one hundred years.
About a third of the total area of ​​the Estonian capital is occupied by parks. The most famous of them is Kadriorg Park, founded by Peter the Great in those remote times when Estonian lands were part of the Russian Empire.
Tallinn was very popular with Soviet filmmakers due to its "European" appearance, which immediately highlighted it from the mass of most Soviet cities.
The Estonians themselves write the name of the city with two "l" and two "n" – "Tallinn".
Founded about eight hundred years ago, the city over the centuries has managed to change several names. Until 1917, it was called "Revel", although the name "Tallinn" arose in the 16th century.
It is here that the tallest building in Estonia is located – a 314-meter-tall tower. In clear weather, you can see the shores of Finland from its observation platform.
In Tallinn, one-third of the Estonian population lives.
For a long time already Tallinn has been among the top ten most developed cities in terms of high technology.
The overwhelming majority of Tallinn residents speak not only Estonian, but also English. Many also know Finnish, Russian or German.
The meaning of the name of the Estonian capital is still not precisely defined. The prevailing version is that it means "Winter City", which, in general, corresponds to the truth – the climate here is pretty cool, and the summer is short.