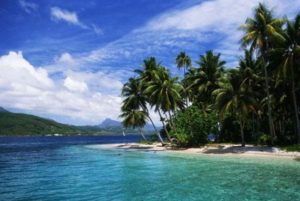 The islands of Tonga are practically unknown in the world, more precisely, most people on Earth do not at all know about the existence of such a state. Recently, they gain popularity only among eco-tourists and downshifters.
The Polynesian island state of Tonga is located immediately on 177 islands.
The official name of the country is the Kingdom of Tonga.
The total area of ​​Tonga is less than 750 square kilometers.
The population of Tonga is a little over one hundred thousand people.
Tonga is a member of the UN.
Independence from the Great Britain the country has found in 1970.
Most of the islands of the Tonga archipelago are of volcanic or coral origin.
Of all the islands of the archipelago, only 36 are inhabited, their total area is about 650 square kilometers.
Over the last two centuries, at least 35 volcanic eruptions occurred on the islands of Tonga, the last was in 1960.
The climate in the islands of Tonga has two pronounced seasons – arid and rainy.
Like many other island states lost in the ocean, Tonga is experiencing problems with fresh water. Tongans collect rainwater in special tanks.
In the Tonga archipelago there are as many as two national parks and six reserves.
Tongan armed forces took part in the First World War, as well as in the peacekeeping operation in Iraq.
The Kingdom of Tonga maintains diplomatic relations with many countries, including Russia.
The only embassy in Tonga is located in China, in Beijing.
Tonga is a mono-national country, more than 96 percent of the population is Tongans.
Tongans dislike the Chinese.
In Tonga, two official languages ​​are English and Tongan.
On the territory of the Kingdom of Tonga there is a Russian Orthodox mission.
There are no railways in Tonga.
The roads with a hard surface in the territory of Tonga are only about two hundred kilometers.
The total length of the road to Tonga is about seven hundred kilometers.
Approximately every tenth Tonganese uses the Internet.
There are five radio stations in Tonga.
The national currency of Tonga is called paanga.
National sport in Tonga – rugby.