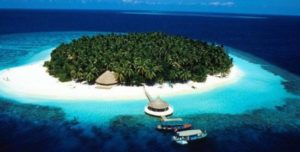 Maldives in the minds of many people are the embodiment of a kind of paradise, where it is always good, where a friendly warm ocean and white beaches. Partly it is, and partly not, but, however that may be, this is really an amazing place …
The first human settlements in the Maldives appeared more than five thousand years ago.
The archipelago includes as many as 1190 islands.
The distance between many of the Maldives is huge, since the archipelago stretched out over a large part of the Indian Ocean.
Most of the islands of the archipelago are tiny shreds of land.
The Maldives are the smallest of the Muslim countries.
Most of the islands of the archipelago have such a smooth relief that the Maldives are recognized as the state with the most flat territory in the world.
The highest point of the Maldives is less than two and a half meters above sea level.
The Maldives are located both to the north and south of the equator line.
The total land area of ​​all the Maldives is a little less than three hundred square kilometers.
There are practically no seasonal temperature differences in the Maldives.
The city in the Maldives is only one – it's the capital of the country, Male.
In the Maldives, there are no poisonous snakes or insects dangerous to humans.
Also here there are no dogs, in general – their maintenance in the Maldives is prohibited.
In the waters of the Maldives, the largest fish in the world live – whale sharks. These are completely harmless creatures, so tourists can not be afraid of them.
In Maldives there is no land public transport.
About two hundred islands of the Maldives archipelago are inhabited, but almost 90 percent of the population lives in the capital.
From some islands of the archipelago, the inhabitants were evacuated because of the rising level of the world's oceans.
Outside the hotels in the Maldives there is no alcohol.
Missionary activities in the Maldives are strictly prohibited.
The citizenship of the Maldives is inextricably linked with religion – as the Maldivian Constitution says. Only an adherent of Islam can be a citizen of the state.
For damage to coastal corals in the Maldives is a large fine. Corals from the islands are prohibited to be exported.
The area of ​​the capital of the islands, Male, is only six square kilometers.
More than two thousand species of fish live in the Maldivian waters.