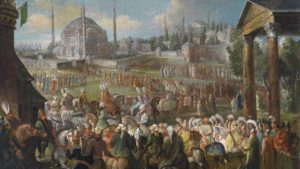 The Ottoman Empire is a mighty state that has existed on the political map of the world for more than six centuries. At the beginning of the 20th century, the Empire was reorganized, and now it is known to us as Turkey. But long centuries of history were not in vain, making Turkey the country with the largest number of historical monuments in the world. It's no wonder that millions of people come here every year not only for beach rest, but also to get acquainted with the legacy of the Ottoman Empire.
In the empire there was a rather strange custom concerning the execution of death sentences. If a high-ranking person was condemned to death, it could challenge the executioner and try to run a certain distance faster than the executioner, thus saving his life. True, usually still young and hardy executioners ran faster than fat and pampered officials.
The Ottoman Sultan Mehmed the Second not only killed all his brothers in order to avoid competition for the throne, but also passed a law according to which every future sultan was obliged to kill all his brothers. The law lasted two hundred years, until another sultan replaced death for life imprisonment.
Sultan Selim the Terrible became famous for the fact that, for the slightest faults, he executed the great vizier, who in fact was the second person in the Ottoman Empire. At the same time the sultan of the Vizier changed so often that they took the habit of always carrying a will with them.
The harem of some sultans of the Ottoman Empire included more than two thousand women. By the way, for one and only careless view, abandoned to Sultan wives or concubines, the death penalty relied.
The capital of the Ottoman Empire has never changed – it was the city of Constantinople, later renamed Istanbul, which is now the capital of Turkey.
In the Ottoman Empire, all non-Muslims paid additional taxes with money or children who were given to teach the people of the Sultan in order to replenish the ranks of his personal guard in the future.
A Muslim who converted to another faith in the Ottoman Empire was punished with the death penalty. Followers of other religions could easily accept Islam, this was even encouraged by the Sultan.
The crescent has become one of the main symbols of Islam precisely at the time of the heyday of the Ottoman Empire.
In the 16-17 centuries the Ottoman Empire became famous for its tulips, which were actively cultivated in these parts and from here spread to other countries.