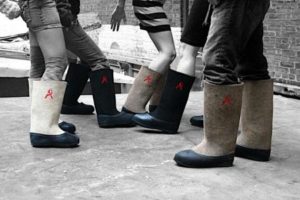 Valenki is an indispensable attribute of Russian culture. These shoes are really warm, and it is perfect for use in severe winters. Of course, these days it's rare to see someone wearing a felt boots in a large city, but in the villages this footwear is still in the works. In addition, fashion designers are gradually returning fashion to boots, so that soon mods and women of fashion will start flaunting them again, as in the old days.
Previously, felt boots were made different – the right and left differed in shape. Modern models that are now on sale, such differences do not have (except for models that have rubber galoshes included).
In Russia there is far more than one museum of felt boots. One of the largest is in Moscow.
The largest felt boots, entered in the book of records of Russia, was created in the city of Kineshma, Ivanovo region by the Sokolov family. Its height is 168 cm, and the length of the foot is 110 cm. Also Sokolov made a 205 cm high felt boots, with a foot length of 160 cm. In Kineshma, by the way, there is another museum of felt boots.
If you have ever seen a particularly fluffy felt boots – you know, they are made of camel hair.
The history of boots is about 1500 years.
In Soviet times, one delegation from Mongolia gave the Soviet Union thirty thousand pairs of felt boots.
In Russia felt boots gained popularity in the late 18th century.