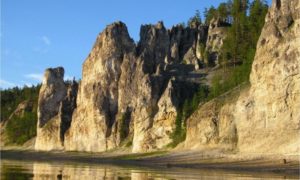 Yakutia is a huge part of Russia. Covered with taiga forests and tundra, it is really huge, and even an experienced ranger can get lost in the Yakut forests. Here live different peoples, each of which can boast of its own history and rich cultural and historical heritage, and all together they contribute to the diversity of our multinational country.
In Soviet times shamans in Yakutia were actively oppressed, but in Yakut villages their authority is still very great.
Very popular in Yakutia dish – stroganina, sliced ​​with fine chips raw frozen fish.
The second name of Yakutia is the Republic of Sakha.
The area of ​​Yakutia is larger than the area of ​​Argentina, and this is despite the fact that Argentina is the eighth largest state in the world.
In the vast Yakut open spaces, only about a million people live. The population density is one of the smallest among all regions of Russia. For comparison, in the capital of the Philippines, Manila, a city of less than 40 square meters. kilometers, is home to about 1.6 million people. At the same time the area of ​​Yakutia is about 3 million square meters. kilometers.
In Yakutia you can easily see how the children in the 45-degree frost play on the street and right there they calmly eat ice cream.
Many words in the Yakut language begin with the letter "s".
Districts in Yakutia are called uluses.
The most popular drink in Yakutia is hot tea.
About a quarter of all diamonds in the world are mined in Yakutia.
In Yakutia is very expensive internet.
The total length of all Yakutian rivers is more than 2 million kilometers. The largest of them is Lena.
Cars in Yakutia are usually equipped with double sets of glasses, like a double-glazed window, otherwise they freeze up in the winter and are tightened with hoarfrost.
In some regions of Yakutia in winter the temperature drops to -70 degrees. In general, this, however, refers to unoccupied places, and in cities -55 degrees, for example – not so rare.
In Yakutia successfully bred deer.
More than two thirds of the territory of Yakutia is occupied by mountains and plateaus, so the myth that this region is a continuous tundra is just a myth, and nothing more.
Over the Arctic Circle is more than 40% of the territory of Yakutia.
The northernmost point of Yakutia is Henrietta Island in the East Siberian Sea.
The city of Yakutsk is on the list of the most overcast Russian cities.
People lived in the territory of modern Yakutia even more than 6 thousand years ago.