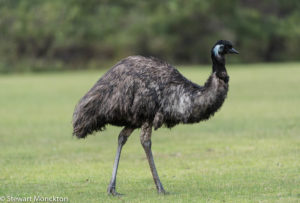 Emu birds feed on vegetable food, but they will not give up the animal either. They love herbs, roots, fruits. In captivity they are fed grain crops, grass mixtures, which in summer consist of green forage, and in winter from hay. Mineral components are added to the feed. Emu will sometimes be lacerated by small animals, in captivity, bone meal, chicken eggs, meat and other animal products are introduced into the diet of these birds.
These big birds are rather unpretentious. They are better than other astute people get used to the new conditions of detention. At the same time, the chick must be allocated at least 5 sq.m. Area, and the adult bird 10 – 15. When walking for one individual, 20 to 30 square meters are allocated. Area.
Per day for 1 adult emu bird, 1.5 kg of feed is taken. Excess nutrition is unacceptable, since the excess weight of the animal can lead to a large increase in weight, which can have a negative effect on the limbs of the bird – they are bent.
Here are the foods that should be present in the menu of this bird: carrots, rye bread, bran, oats, barley, cake, meat, peas, oatmeal, chicken eggs, cabbage, beets, onions, potatoes, yeast, hay, shellfish, fish oil , Salt, bone meal, etc.