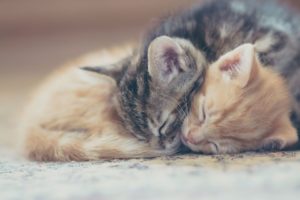 If you want to accustom a kitten to natural food, you must observe certain conditions. Food should be varied. If a child does not accustom a kitten to any product, it is unlikely that it will be done in adulthood. Therefore, offer different products, so as not to turn a kitten into a sparrow and provide a full meal. Never feed the animal from the table – human food for cats is not good, it can be the strongest indigestion of the stomach, in addition, you risk growing a beggar, if you constantly feed the animal from your plate.
Do not give anything smoked, salty or spicy, pity the animal! No bones, especially chicken. Such bones, when passing through the digestive tract, can severely injure internal organs. Remember that cats need grass to effectively regurgitate the accumulated wool in the stomach. Sow the grass directly in flowerpots or buy already grown in a pet store. The kitten should have its own dishes, its permanent place for a meal and its diet. And do not forget about vitamins and mineral supplements. If you feed the animal with natural products, then you can not do without additives.
First, put the meat in the cat food basket. It can be beef (to start better just with it), a bird, a rabbit, lamb, horse meat. Refuse pork – this meat is too fat, especially for small ones, and can also infect kitten with helminths. Fish, oddly enough, it's also better not to get involved – give sea fish once a week in small portions. Meat can be given as cooked or raw, at first it is better in finely chopped or grated form.
Dairy products are the most native food for a kitten. However, some tender stomachs do not tolerate cow's milk. Whole milk can be replaced with yogurt, kefir and other fermented milk products. An excellent product for a growing organism is cottage cheese. A small kitten can be given a mixture of cottage cheese with milk and yolk – a very useful and nutritious "gogol-mogol", eaten with great pleasure. Also do not forget occasionally to pamper your purr with low-fat sour cream and cheese.
Eggs with pleasure eat almost all cats. This is for them a real delicacy. Include the eggs in the menu a couple of times a week, they have an excellent effect on the condition of the coat. You can give it in raw or cooked form. For small kittens, offer a mixture of milk and yolk.