Warning
: mysql_query(): Unable to save result set in
/home4/wpmira05/howtodoright.com/wp-includes/wp-db.php
on line
1944
Warning
: mysql_query(): Unable to save result set in
/home4/wpmira05/howtodoright.com/wp-includes/wp-db.php
on line
1944
Warning
: mysql_query(): Unable to save result set in
/home4/wpmira05/howtodoright.com/wp-includes/wp-db.php
on line
1944
Warning
: mysql_query(): Unable to save result set in
/home4/wpmira05/howtodoright.com/wp-includes/wp-db.php
on line
1944
Warning
: mysql_query(): Unable to save result set in
/home4/wpmira05/howtodoright.com/wp-includes/wp-db.php
on line
1944
Warning
: mysql_query(): Unable to save result set in
/home4/wpmira05/howtodoright.com/wp-includes/wp-db.php
on line
1944
Warning
: mysql_query(): Unable to save result set in
/home4/wpmira05/howtodoright.com/wp-includes/wp-db.php
on line
1944
Warning
: mysql_query(): Unable to save result set in
/home4/wpmira05/howtodoright.com/wp-includes/wp-db.php
on line
1944
Warning
: mysql_query(): Unable to save result set in
/home4/wpmira05/howtodoright.com/wp-includes/wp-db.php
on line
1944
Warning
: mysql_query(): Unable to save result set in
/home4/wpmira05/howtodoright.com/wp-includes/wp-db.php
on line
1944
Warning
: mysql_query(): Unable to save result set in
/home4/wpmira05/howtodoright.com/wp-includes/wp-db.php
on line
1944
Warning
: mysql_query(): Unable to save result set in
/home4/wpmira05/howtodoright.com/wp-includes/wp-db.php
on line
1944
Warning
: mysql_query(): Unable to save result set in
/home4/wpmira05/howtodoright.com/wp-includes/wp-db.php
on line
1944
Warning
: mysql_query(): Unable to save result set in
/home4/wpmira05/howtodoright.com/wp-includes/wp-db.php
on line
1944
Warning
: mysql_query(): Unable to save result set in
/home4/wpmira05/howtodoright.com/wp-includes/wp-db.php
on line
1944
Warning
: mysql_query(): Unable to save result set in
/home4/wpmira05/howtodoright.com/wp-includes/wp-db.php
on line
1944
Warning
: mysql_query(): Unable to save result set in
/home4/wpmira05/howtodoright.com/wp-includes/wp-db.php
on line
1944
Warning
: mysql_query(): Unable to save result set in
/home4/wpmira05/howtodoright.com/wp-includes/wp-db.php
on line
1944
Warning
: mysql_query(): Unable to save result set in
/home4/wpmira05/howtodoright.com/wp-includes/wp-db.php
on line
1944
Warning
: mysql_query(): Unable to save result set in
/home4/wpmira05/howtodoright.com/wp-includes/wp-db.php
on line
1944
Warning
: mysql_query(): Unable to save result set in
/home4/wpmira05/howtodoright.com/wp-includes/wp-db.php
on line
1944
Warning
: mysql_query(): Unable to save result set in
/home4/wpmira05/howtodoright.com/wp-includes/wp-db.php
on line
1944
Warning
: mysql_query(): Unable to save result set in
/home4/wpmira05/howtodoright.com/wp-includes/wp-db.php
on line
1944
Warning
: mysql_query(): Unable to save result set in
/home4/wpmira05/howtodoright.com/wp-includes/wp-db.php
on line
1944
Warning
: mysql_query(): Unable to save result set in
/home4/wpmira05/howtodoright.com/wp-includes/wp-db.php
on line
1944
Warning
: mysql_query(): Unable to save result set in
/home4/wpmira05/howtodoright.com/wp-includes/wp-db.php
on line
1944
Warning
: mysql_query(): Unable to save result set in
/home4/wpmira05/howtodoright.com/wp-includes/wp-db.php
on line
1944
Warning
: mysql_query(): Unable to save result set in
/home4/wpmira05/howtodoright.com/wp-includes/wp-db.php
on line
1944
Warning
: mysql_query(): Unable to save result set in
/home4/wpmira05/howtodoright.com/wp-includes/wp-db.php
on line
1944
Warning
: mysql_query(): Unable to save result set in
/home4/wpmira05/howtodoright.com/wp-includes/wp-db.php
on line
1944
Warning
: mysql_query(): Unable to save result set in
/home4/wpmira05/howtodoright.com/wp-includes/wp-db.php
on line
1944
Warning
: mysql_query(): Unable to save result set in
/home4/wpmira05/howtodoright.com/wp-includes/wp-db.php
on line
1944
Warning
: mysql_query(): Unable to save result set in
/home4/wpmira05/howtodoright.com/wp-includes/wp-db.php
on line
1944
Warning
: mysql_query(): Unable to save result set in
/home4/wpmira05/howtodoright.com/wp-includes/wp-db.php
on line
1944
Warning
: mysql_query(): Unable to save result set in
/home4/wpmira05/howtodoright.com/wp-includes/wp-db.php
on line
1944
Warning
: mysql_query(): Unable to save result set in
/home4/wpmira05/howtodoright.com/wp-includes/wp-db.php
on line
1944
Warning
: mysql_query(): Unable to save result set in
/home4/wpmira05/howtodoright.com/wp-includes/wp-db.php
on line
1944
Warning
: mysql_query(): Unable to save result set in
/home4/wpmira05/howtodoright.com/wp-includes/wp-db.php
on line
1944
Warning
: mysql_query(): Unable to save result set in
/home4/wpmira05/howtodoright.com/wp-includes/wp-db.php
on line
1944
Warning
: mysql_query(): Unable to save result set in
/home4/wpmira05/howtodoright.com/wp-includes/wp-db.php
on line
1944
Warning
: mysql_query(): Unable to save result set in
/home4/wpmira05/howtodoright.com/wp-includes/wp-db.php
on line
1944
Warning
: mysql_query(): Unable to save result set in
/home4/wpmira05/howtodoright.com/wp-includes/wp-db.php
on line
1944
Warning
: mysql_query(): Unable to save result set in
/home4/wpmira05/howtodoright.com/wp-includes/wp-db.php
on line
1944
Warning
: mysql_query(): Unable to save result set in
/home4/wpmira05/howtodoright.com/wp-includes/wp-db.php
on line
1944
Warning
: mysql_query(): Unable to save result set in
/home4/wpmira05/howtodoright.com/wp-includes/wp-db.php
on line
1944
Warning
: mysql_query(): Unable to save result set in
/home4/wpmira05/howtodoright.com/wp-includes/wp-db.php
on line
1944
Warning
: mysql_query(): Unable to save result set in
/home4/wpmira05/howtodoright.com/wp-includes/wp-db.php
on line
1944
Warning
: mysql_query(): Unable to save result set in
/home4/wpmira05/howtodoright.com/wp-includes/wp-db.php
on line
1944
Warning
: mysql_query(): Unable to save result set in
/home4/wpmira05/howtodoright.com/wp-includes/wp-db.php
on line
1944
Warning
: mysql_query(): Unable to save result set in
/home4/wpmira05/howtodoright.com/wp-includes/wp-db.php
on line
1944
Warning
: mysql_query(): Unable to save result set in
/home4/wpmira05/howtodoright.com/wp-includes/wp-db.php
on line
1944
Warning
: mysql_query(): Unable to save result set in
/home4/wpmira05/howtodoright.com/wp-includes/wp-db.php
on line
1944
Warning
: mysql_query(): Unable to save result set in
/home4/wpmira05/howtodoright.com/wp-includes/wp-db.php
on line
1944
Warning
: mysql_query(): Unable to save result set in
/home4/wpmira05/howtodoright.com/wp-includes/wp-db.php
on line
1944
Warning
: mysql_query(): Unable to save result set in
/home4/wpmira05/howtodoright.com/wp-includes/wp-db.php
on line
1944
Warning
: mysql_query(): Unable to save result set in
/home4/wpmira05/howtodoright.com/wp-includes/wp-db.php
on line
1944
Warning
: mysql_query(): Unable to save result set in
/home4/wpmira05/howtodoright.com/wp-includes/wp-db.php
on line
1944
Warning
: mysql_query(): Unable to save result set in
/home4/wpmira05/howtodoright.com/wp-includes/wp-db.php
on line
1944
Warning
: mysql_query(): Unable to save result set in
/home4/wpmira05/howtodoright.com/wp-includes/wp-db.php
on line
1944
Warning
: mysql_query(): Unable to save result set in
/home4/wpmira05/howtodoright.com/wp-includes/wp-db.php
on line
1944
Warning
: mysql_query(): Unable to save result set in
/home4/wpmira05/howtodoright.com/wp-includes/wp-db.php
on line
1944
Warning
: mysql_query(): Unable to save result set in
/home4/wpmira05/howtodoright.com/wp-includes/wp-db.php
on line
1944
Warning
: mysql_query(): Unable to save result set in
/home4/wpmira05/howtodoright.com/wp-includes/wp-db.php
on line
1944
Warning
: mysql_query(): Unable to save result set in
/home4/wpmira05/howtodoright.com/wp-includes/wp-db.php
on line
1944
Warning
: mysql_query(): Unable to save result set in
/home4/wpmira05/howtodoright.com/wp-includes/wp-db.php
on line
1944
Warning
: mysql_query(): Unable to save result set in
/home4/wpmira05/howtodoright.com/wp-includes/wp-db.php
on line
1944
Warning
: mysql_query(): Unable to save result set in
/home4/wpmira05/howtodoright.com/wp-includes/wp-db.php
on line
1944
Warning
: mysql_query(): Unable to save result set in
/home4/wpmira05/howtodoright.com/wp-includes/wp-db.php
on line
1944
Warning
: mysql_query(): Unable to save result set in
/home4/wpmira05/howtodoright.com/wp-includes/wp-db.php
on line
1944
Warning
: mysql_query(): Unable to save result set in
/home4/wpmira05/howtodoright.com/wp-includes/wp-db.php
on line
1944
Warning
: mysql_query(): Unable to save result set in
/home4/wpmira05/howtodoright.com/wp-includes/wp-db.php
on line
1944
Warning
: mysql_query(): Unable to save result set in
/home4/wpmira05/howtodoright.com/wp-includes/wp-db.php
on line
1944
Warning
: mysql_query(): Unable to save result set in
/home4/wpmira05/howtodoright.com/wp-includes/wp-db.php
on line
1944
Warning
: mysql_query(): Unable to save result set in
/home4/wpmira05/howtodoright.com/wp-includes/wp-db.php
on line
1944
Warning
: mysql_query(): Unable to save result set in
/home4/wpmira05/howtodoright.com/wp-includes/wp-db.php
on line
1944
Warning
: mysql_query(): Unable to save result set in
/home4/wpmira05/howtodoright.com/wp-includes/wp-db.php
on line
1944
Warning
: mysql_query(): Unable to save result set in
/home4/wpmira05/howtodoright.com/wp-includes/wp-db.php
on line
1944
Warning
: mysql_query(): Unable to save result set in
/home4/wpmira05/howtodoright.com/wp-includes/wp-db.php
on line
1944
Warning
: mysql_query(): Unable to save result set in
/home4/wpmira05/howtodoright.com/wp-includes/wp-db.php
on line
1944
Warning
: mysql_query(): Unable to save result set in
/home4/wpmira05/howtodoright.com/wp-includes/wp-db.php
on line
1944
Warning
: mysql_query(): Unable to save result set in
/home4/wpmira05/howtodoright.com/wp-includes/wp-db.php
on line
1944
Warning
: mysql_query(): Unable to save result set in
/home4/wpmira05/howtodoright.com/wp-includes/wp-db.php
on line
1944
Warning
: mysql_query(): Unable to save result set in
/home4/wpmira05/howtodoright.com/wp-includes/wp-db.php
on line
1944
Warning
: mysql_query(): Unable to save result set in
/home4/wpmira05/howtodoright.com/wp-includes/wp-db.php
on line
1944
Warning
: mysql_query(): Unable to save result set in
/home4/wpmira05/howtodoright.com/wp-includes/wp-db.php
on line
1944
Warning
: mysql_query(): Unable to save result set in
/home4/wpmira05/howtodoright.com/wp-includes/wp-db.php
on line
1944
Warning
: mysql_query(): Unable to save result set in
/home4/wpmira05/howtodoright.com/wp-includes/wp-db.php
on line
1944
Warning
: mysql_query(): Unable to save result set in
/home4/wpmira05/howtodoright.com/wp-includes/wp-db.php
on line
1944
Warning
: mysql_query(): Unable to save result set in
/home4/wpmira05/howtodoright.com/wp-includes/wp-db.php
on line
1944
Warning
: mysql_query(): Unable to save result set in
/home4/wpmira05/howtodoright.com/wp-includes/wp-db.php
on line
1944
Warning
: mysql_query(): Unable to save result set in
/home4/wpmira05/howtodoright.com/wp-includes/wp-db.php
on line
1944
Warning
: mysql_query(): Unable to save result set in
/home4/wpmira05/howtodoright.com/wp-includes/wp-db.php
on line
1944
Warning
: mysql_query(): Unable to save result set in
/home4/wpmira05/howtodoright.com/wp-includes/wp-db.php
on line
1944
Warning
: mysql_query(): Unable to save result set in
/home4/wpmira05/howtodoright.com/wp-includes/wp-db.php
on line
1944
Warning
: mysql_query(): Unable to save result set in
/home4/wpmira05/howtodoright.com/wp-includes/wp-db.php
on line
1944
Warning
: mysql_query(): Unable to save result set in
/home4/wpmira05/howtodoright.com/wp-includes/wp-db.php
on line
1944
Warning
: mysql_query(): Unable to save result set in
/home4/wpmira05/howtodoright.com/wp-includes/wp-db.php
on line
1944
Warning
: mysql_query(): Unable to save result set in
/home4/wpmira05/howtodoright.com/wp-includes/wp-db.php
on line
1944
Warning
: mysql_query(): Unable to save result set in
/home4/wpmira05/howtodoright.com/wp-includes/wp-db.php
on line
1944
Warning
: mysql_query(): Unable to save result set in
/home4/wpmira05/howtodoright.com/wp-includes/wp-db.php
on line
1944
Warning
: mysql_query(): Unable to save result set in
/home4/wpmira05/howtodoright.com/wp-includes/wp-db.php
on line
1944
Warning
: mysql_query(): Unable to save result set in
/home4/wpmira05/howtodoright.com/wp-includes/wp-db.php
on line
1944
Warning
: mysql_query(): Unable to save result set in
/home4/wpmira05/howtodoright.com/wp-includes/wp-db.php
on line
1944
Warning
: mysql_query(): Unable to save result set in
/home4/wpmira05/howtodoright.com/wp-includes/wp-db.php
on line
1944
Warning
: mysql_query(): Unable to save result set in
/home4/wpmira05/howtodoright.com/wp-includes/wp-db.php
on line
1944
Warning
: mysql_query(): Unable to save result set in
/home4/wpmira05/howtodoright.com/wp-includes/wp-db.php
on line
1944
Warning
: mysql_query(): Unable to save result set in
/home4/wpmira05/howtodoright.com/wp-includes/wp-db.php
on line
1944
Warning
: mysql_query(): Unable to save result set in
/home4/wpmira05/howtodoright.com/wp-includes/wp-db.php
on line
1944
Warning
: mysql_query(): Unable to save result set in
/home4/wpmira05/howtodoright.com/wp-includes/wp-db.php
on line
1944
Warning
: mysql_query(): Unable to save result set in
/home4/wpmira05/howtodoright.com/wp-includes/wp-db.php
on line
1944
Warning
: mysql_query(): Unable to save result set in
/home4/wpmira05/howtodoright.com/wp-includes/wp-db.php
on line
1944
Warning
: mysql_query(): Unable to save result set in
/home4/wpmira05/howtodoright.com/wp-includes/wp-db.php
on line
1944
Warning
: mysql_query(): Unable to save result set in
/home4/wpmira05/howtodoright.com/wp-includes/wp-db.php
on line
1944
Warning
: mysql_query(): Unable to save result set in
/home4/wpmira05/howtodoright.com/wp-includes/wp-db.php
on line
1944
Warning
: mysql_query(): Unable to save result set in
/home4/wpmira05/howtodoright.com/wp-includes/wp-db.php
on line
1944
Warning
: mysql_query(): Unable to save result set in
/home4/wpmira05/howtodoright.com/wp-includes/wp-db.php
on line
1944
Warning
: mysql_query(): Unable to save result set in
/home4/wpmira05/howtodoright.com/wp-includes/wp-db.php
on line
1944
Warning
: mysql_query(): Unable to save result set in
/home4/wpmira05/howtodoright.com/wp-includes/wp-db.php
on line
1944
Warning
: mysql_query(): Unable to save result set in
/home4/wpmira05/howtodoright.com/wp-includes/wp-db.php
on line
1944
Warning
: mysql_query(): Unable to save result set in
/home4/wpmira05/howtodoright.com/wp-includes/wp-db.php
on line
1944
Warning
: mysql_query(): Unable to save result set in
/home4/wpmira05/howtodoright.com/wp-includes/wp-db.php
on line
1944
Warning
: mysql_query(): Unable to save result set in
/home4/wpmira05/howtodoright.com/wp-includes/wp-db.php
on line
1944
Warning
: mysql_query(): Unable to save result set in
/home4/wpmira05/howtodoright.com/wp-includes/wp-db.php
on line
1944
Warning
: mysql_query(): Unable to save result set in
/home4/wpmira05/howtodoright.com/wp-includes/wp-db.php
on line
1944
Warning
: mysql_query(): Unable to save result set in
/home4/wpmira05/howtodoright.com/wp-includes/wp-db.php
on line
1944
Warning
: mysql_query(): Unable to save result set in
/home4/wpmira05/howtodoright.com/wp-includes/wp-db.php
on line
1944
Warning
: mysql_query(): Unable to save result set in
/home4/wpmira05/howtodoright.com/wp-includes/wp-db.php
on line
1944
Warning
: mysql_query(): Unable to save result set in
/home4/wpmira05/howtodoright.com/wp-includes/wp-db.php
on line
1944
Warning
: mysql_query(): Unable to save result set in
/home4/wpmira05/howtodoright.com/wp-includes/wp-db.php
on line
1944
Warning
: mysql_query(): Unable to save result set in
/home4/wpmira05/howtodoright.com/wp-includes/wp-db.php
on line
1944
Warning
: mysql_query(): Unable to save result set in
/home4/wpmira05/howtodoright.com/wp-includes/wp-db.php
on line
1944
Warning
: mysql_query(): Unable to save result set in
/home4/wpmira05/howtodoright.com/wp-includes/wp-db.php
on line
1944
Warning
: mysql_query(): Unable to save result set in
/home4/wpmira05/howtodoright.com/wp-includes/wp-db.php
on line
1944
Warning
: mysql_query(): Unable to save result set in
/home4/wpmira05/howtodoright.com/wp-includes/wp-db.php
on line
1944
Warning
: mysql_query(): Unable to save result set in
/home4/wpmira05/howtodoright.com/wp-includes/wp-db.php
on line
1944
Warning
: mysql_query(): Unable to save result set in
/home4/wpmira05/howtodoright.com/wp-includes/wp-db.php
on line
1944
Warning
: mysql_query(): Unable to save result set in
/home4/wpmira05/howtodoright.com/wp-includes/wp-db.php
on line
1944
Warning
: mysql_query(): Unable to save result set in
/home4/wpmira05/howtodoright.com/wp-includes/wp-db.php
on line
1944
Warning
: mysql_query(): Unable to save result set in
/home4/wpmira05/howtodoright.com/wp-includes/wp-db.php
on line
1944
Warning
: mysql_query(): Unable to save result set in
/home4/wpmira05/howtodoright.com/wp-includes/wp-db.php
on line
1944
Warning
: mysql_query(): Unable to save result set in
/home4/wpmira05/howtodoright.com/wp-includes/wp-db.php
on line
1944
Warning
: mysql_query(): Unable to save result set in
/home4/wpmira05/howtodoright.com/wp-includes/wp-db.php
on line
1944
Warning
: mysql_query(): Unable to save result set in
/home4/wpmira05/howtodoright.com/wp-includes/wp-db.php
on line
1944
Warning
: mysql_query(): Unable to save result set in
/home4/wpmira05/howtodoright.com/wp-includes/wp-db.php
on line
1944
Warning
: mysql_query(): Unable to save result set in
/home4/wpmira05/howtodoright.com/wp-includes/wp-db.php
on line
1944
Warning
: mysql_query(): Unable to save result set in
/home4/wpmira05/howtodoright.com/wp-includes/wp-db.php
on line
1944
Warning
: mysql_query(): Unable to save result set in
/home4/wpmira05/howtodoright.com/wp-includes/wp-db.php
on line
1944
Warning
: mysql_query(): Unable to save result set in
/home4/wpmira05/howtodoright.com/wp-includes/wp-db.php
on line
1944
Warning
: mysql_query(): Unable to save result set in
/home4/wpmira05/howtodoright.com/wp-includes/wp-db.php
on line
1944
Warning
: mysql_query(): Unable to save result set in
/home4/wpmira05/howtodoright.com/wp-includes/wp-db.php
on line
1944
Warning
: mysql_query(): Unable to save result set in
/home4/wpmira05/howtodoright.com/wp-includes/wp-db.php
on line
1944
Warning
: mysql_query(): Unable to save result set in
/home4/wpmira05/howtodoright.com/wp-includes/wp-db.php
on line
1944
Warning
: mysql_query(): Unable to save result set in
/home4/wpmira05/howtodoright.com/wp-includes/wp-db.php
on line
1944
Warning
: mysql_query(): Unable to save result set in
/home4/wpmira05/howtodoright.com/wp-includes/wp-db.php
on line
1944
Warning
: mysql_query(): Unable to save result set in
/home4/wpmira05/howtodoright.com/wp-includes/wp-db.php
on line
1944
Warning
: mysql_query(): Unable to save result set in
/home4/wpmira05/howtodoright.com/wp-includes/wp-db.php
on line
1944
Warning
: mysql_query(): Unable to save result set in
/home4/wpmira05/howtodoright.com/wp-includes/wp-db.php
on line
1944
Warning
: mysql_query(): Unable to save result set in
/home4/wpmira05/howtodoright.com/wp-includes/wp-db.php
on line
1944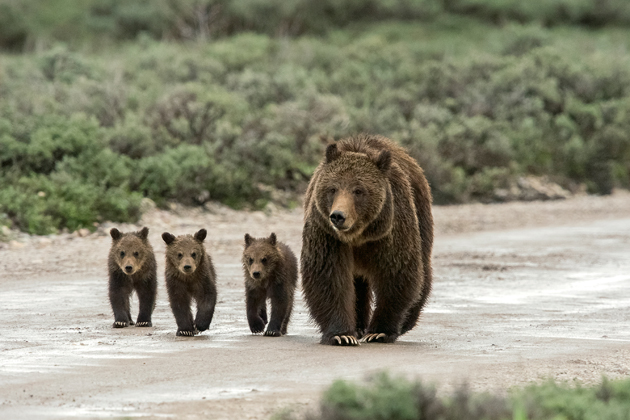 To date, grizzly bears are mostly found in the reserves: Yellowstone, Mount McKinley and Glacier Park. In 2005 there lived 600 grizzlies, although 5 years ago there were only 250 of them. For decades, the grizzlies were carefully guarded. These grizzly bears are listed in the Red Book of the International Union for Conservation of Nature and Natural Resources.
The Grizzlies, like the brown bear, are a great fish lover. In Alaska, where it is found in large numbers along the banks of rivers and along the marshes, constantly trampled by bears the paths leading to the nearest pond. But it must be noted that grizzly vegetarians are generally. Mostly eat vegetarian food and very rarely – small game. There are, of course, also those that feed on large animals, but these are much smaller – they mostly live in places where the poor plant environment. The bear tears its victim with teeth and claws in a matter of minutes.
In the way of life, this bear is very similar to our bear and is also susceptible to hibernation. Inhabits grizzly in the mountain valleys and forests of Canada, British Columbia and the Yukon, but to date their population is very small. And all because of the fact that in the last century there was an intensified extermination of these animals. First, there were cases of attacks of wounded animals on people in their own homes. And secondly, people feared for their pets, although that's just the grizzly never attacked the cattle. In due time the head of each killed grizzly was entitled to a premium. Hunters became increasingly bearish, and the grizzly themselves less and less. People said that he was not afraid of man, on the contrary, he went directly to him, whether he was on horseback or on foot, armed or unarmed, whether he had offended him or not. However, this is not the case at all. Every bear that will recognize a person or see him from afar will try to escape from him in time.