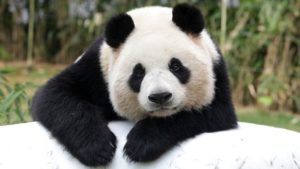 The range of the large panda habitat is the mountainous regions that are in the heart of China: Sichuan and Tibet. In the Sichuan region, large pandas have a typical black and white color. The Tibetan subspecies is different in color and size. The wool of the bears is brownish-white, and in size it is considerably inferior to its relative from the province of Sichuan. Both subspecies live in high-altitude regions at an altitude of 1300-3100 m above sea level. To see a big panda, a tourist will have to overcome a very difficult and long journey. If you do not want to wander through the bamboo thickets, you can visit the zoos in the world where pandas live. Or visit the center for studying and breeding pandas in Chengdu, China.
The center of Chengdu, in addition to being engaged in scientific activities, operates as a national park. You can visit it any day of the week. In the center for pandas all conditions are recreated, so that they feel like in a natural habitat.
You can also see the big panda in the zoos of Europe, USA, Australia, China, Canada, Singapore, Hong Kong, Japan, Thailand and Taiwan.
In Europe, zoos with pandas are in such cities: Vienna in Austria, Madrid in Spain, Berlin in Germany, St. Aignan in France, Edinburgh in the UK.
Look at pandas in the US possibly at several zoos in Atlanta, San Diego, Memphis and the US National Zoo in Washington.