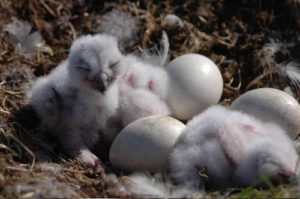 Summer is in full swing, and the Woodland Park zoo in Seattle, America meets the replenishment of the ranks of the inhabitants of the cold northern edges. On June 13, a white chick (snowy or arctic) owl was born, which is the official bird of the Canadian the state of Quebec.
A nestling, whose sex has not yet been determined, was the first in a pair of snowy owls – a 22-year-old female and a 14-year-old male. As the zoo staff say, mom and her baby feel well, the chick is growing and is gaining weight quickly. In the near future visitors to Woodland Park will not be able to see the chick, as he is constantly in the nest with his mother, which closes it from prying eyes. But after one or two weeks the baby will grow up and join the rest of the feathered family.
The veterinarians of the zoo closely follow the health of the newborn, as in the recent past, due to the epidemic of West Nile encephalitis, many birds have suffered in the zoos of the world, white owls and falcons were especially vulnerable to the deadly virus.
Snowy Owl is one of the largest North American birds. Once in seven to ten years, owls living in the Arctic latitudes, in winter, move to more southern latitudes, densely populating prairies, meadows and marshlands to provide the younger generation with food and to train them to feed themselves.