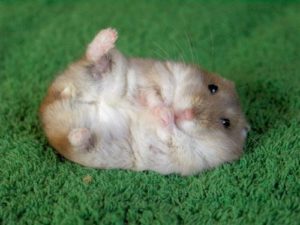 These cute little animals live happily at home, delighting the owners with their playfulness and cheerful disposition. In the wild, hamsters are also widespread, although wild relatives of pets are often not only shy, but also rather harsh.
The word "hamster" comes from the ancient Avestan language – it means "the enemy that plunges to the ground" (since the rodents bend the stems of plants to the ground to get to the seeds).
Hamsters are very different – their body length varies from 5 to 34 centimeters. However, any representative of this species is easy to recognize by well developed cheek pouches. In this they resemble chipmunks.
These rodents are found in the mountains at a height of up to three and a half kilometers.
Hamsters swim well, picking up air in the cheek pouches and using them as floats.
Hamsters prefer to live alone in their complicated holes with many moves and transitions.
An ordinary hamster can store up to 90 kilograms of food. So do the proteins – they store more than they eventually eat during the winter.
The Syrian hamster and Newton's hamster are listed in the Red Book, as they are on the verge of extinction.
Vietnamese residents are legally forbidden to keep hamsters' houses, because they are carriers of many dangerous diseases. The penalty for neglecting this ban is up to 30 million Vietnamese dong (about 57 thousand rubles).
Ovary cells of the Chinese hamster are used to make medicines for severe diseases, including chronic lymphocytic leukemia and multiple sclerosis.
Some breeds of dwarf hamsters are able to delay the appearance of offspring if they still feed the previous brood.
The hamsters have poor eyesight, they do not distinguish colors, but they have an excellent sense of smell and hearing.
Hamsters mark their way with the help of special fragrant glands.
One year of human life for a hamster is equivalent to almost a quarter of a century.
Almost all homemade golden hamsters originated from one female, which in 1930 gave birth to 12 young.
Hamsters are pretty smart – they remember their nickname, remember their relatives and can learn a few tricks.
The hamster can overcome for the night up to 10 kilometers in its wheel. More precisely, could, if the wheel rolled on a flat surface.
Hamsters are one of the few animal species that come into the world with teeth. Teeth continue to grow throughout the life of these rodents, so they must constantly wear them, like guinea pigs.
Hamsters are able to carry a stock of feed in their cheek pouches, the weight of which is 20% of their body weight.
Forest hamsters living in North America are very fond of dragging shiny objects found in the district into their holes. In place of the thing they borrowed, hamsters usually leave a wand or stone, as if making an exchange. In fact, animals simply throw what they carried earlier, if they see a more attractive subject for them.