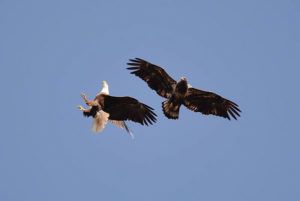 The average life expectancy of eagles in the natural habitat is about 25 years. The maximum age of these birds according to one data is 60, for the other 80 years.
Reliable data on how many live these predators are available for the golden eagle – the largest representative of this species. The average age of death of these birds in nature is 23 years. Although in Sweden they registered a ringed golden eagle, which was more than 32 years old at the time of capture. In captivity, this species can reach a half-century anniversary.
Condor lives most of all – from 52 to 65 years, and sometimes more.
The golden eagle can live from 46 to 50 years, in this case too, there are those that live and more.
The white-headed-eagle lives approximately 38 years.
Despite their strength, eagles remain quite vulnerable links in the ecological chain. In nature, they have few enemies – adult birds can die unless in a fight with a rival or a wolf. It is much more dangerous for them to starve. The constant need for large-scale mining forces eagles from the moderate belt to migrate south following other migratory birds.