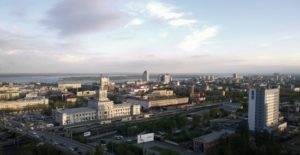 Volgograd is one of the most significant cities in the south-east of our country. Its importance lies not only in the fact that it is literally soaked through with history, but also because Volgograd is in fact the most important transport hub of its entire region.
In the USSR, the metro was built only in those cities where the population exceeded one million people. Today, more than a million people live in Volgograd, but in the 70s of the last century this figure was much more modest, and the metro was not supposed to belong to the city. But local authorities found a way out – they dug the metro and started trams there instead of underground trains.
The city received its name "Volgograd" only in 1961. Before that, it was called Stalingrad, and even earlier, for almost four centuries, it was called Tsaritsyn.
Located in Volgograd, the famous Mamayev Kurgan is included in the list of Seven Wonders of Russia.
The river terminal of Volgograd is the largest in Europe.
During the 20th century, that is for a hundred years, the population of Volgograd increased tenfold.
During the Second World War, the city was almost completely destroyed.
Volgograd is the most "elongated" city in Russia, its length exceeds 65 kilometers.
The battle for Stalingrad, which became the largest land battle of the Second World War, lasted two hundred days.
In the distant year 1954, a truly impressive planetarium was opened here.
In Volgograd, on the Volga River, is the largest river island in Russia – Sarpinsky.
It is here that the largest hydroelectric power station in Europe is located.
In Volgograd, a 57-meter monument to Lenin was installed, included for its size in the Guinness Book of Records.
The longest street in Russia, Prodolnaya, is located in Volgograd. Its length exceeds 50 kilometers.