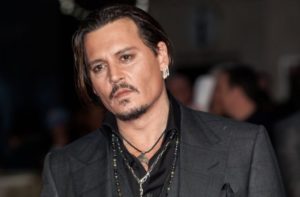 Johnny Depp is one of the most famous and recognizable actors of our time, famous for his many films, including "Pirates of the Caribbean". The talent of this man seems limitless – he is surprisingly well accustomed to a variety of roles, and his tandem with director Tim Burton, known for his unusual films, gave birth to several true masterpieces.
On the arm of the character Johnny Depp in "Pirates of the Caribbean", Captain Jack Sparrow, there is a tattoo. Of course, for the film, it was just drawn, however, after the shooting, Depp did the same tattoo on this site for real. The difference is one – on a real tattoo the sparrow flies in the other direction.
In 2012 alone, Johnny Depp earned more than seventy-five million dollars.
Johnny Depp was nominated for an Oscar three times and twice for the anti-prize "Golden Raspberry".
In German, the name "Depp" means "fool" or "fool". However, the actor himself likes to joke about this.
Johnny Depp is an American, however, among his ancestors Irish, Germans and Indians of the Cherokee tribe wormed.
Once Johnny Depp bought several pictures written by the serial killer and maniac John Gacy.
Favorite actor Johnny Depp – Marlon Brando.
In his early youth, Depp played guitar in various teenage rock bands.
Depp's family often moved, and by the time Johnny was fifteen, he had already moved twenty times.
Johnny Depp's favorite musical band is Oasis. The actor presented it to the guitarist, Noel Gallagher, a guitar on which he periodically plays at concerts.
His favorite drink Depp calls Scotch whiskey.
Johnny Depp did not even graduate from high school, let alone a college or university.
The desire to collect is not alien to the actor – in different years he collected a variety of things, from insects to firearms.
Favorite writer Johnny Depp – Fyodor Dostoevsky.
Johnny Depp owns one of the islands in the Bahamas.
Once on CNN's website, there was information about Depp's death in a car crash, but later it turned out that the site was simply hacked by hackers who placed the "duck".
Johnny Depp can not boast of good eyesight – his right eye is short-sighted, and the left almost does not see at all.
In 1999, the London police arrested Johnny Depp for a fight with the paparazzi, which, he said, prevented his dinner in the restaurant.
Favorite director Johnny Depp – Andrei Tarkovsky.
On the body of Johnny Depp there are as many as thirteen tattoos. One of them is a drawing made by his son, which was then transferred to the body of the actor.
Besides English, Depp speaks good French.
Johnny Depp is a vegetarian.
Favorite city of the actor is Paris.
Johnny Depp has repeatedly stated that he does not like publicity, and in general he avoids the increased attention to his person in every possible way.
Depp's first role is a kid named Glen in the famous horror film The Nightmare on Elm Street.
Depp took part in recording one of Paul McCartney's albums.